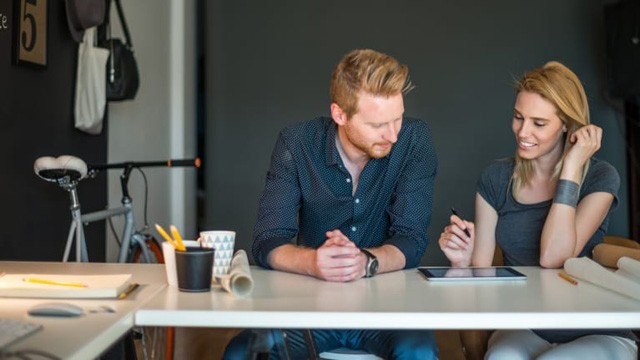 BEC中级英语阅读文章精选:招聘情侣可提高效率及忠诚度(恋人及夫妻在同一单位上班的利与弊)
导读:对恋人及夫妻在一起共事持反对意见的公司与单位不在少数,主要的指控无外乎两个方面,其一:如果情侣之间是上下级关系,那么极有可能因为这层关系一方对另一方会特别给予照顾,从而引发不公平待遇。其二:如果恋人之间将诸如"打情骂俏"等感情因素渗入到工作环境,会引起其它同事的不适。
以下文章选自SHRM网站,本文针对情侣在一处共事可能给企业带来的正面及负面影响进行了分析与探讨。重点生词及实用短语已用蓝色高亮,希望能够对正在BEC备考的童鞋有所帮助。
Much has been made of the pitfalls that come with romance in the workplace: accusations that a supervisor in a relationship with a subordinate treats him or her more favorably than others, for instance, or complaints that overt displays of affection make co-workers uncomfortable.
This Valentine's Day, consider that there can be an upside to having a couple work at the same organization. Such an arrangement can encourage loyalty from both individuals, increase each partner's job satisfaction and even cut the employer's benefits costs.
Certain organizations—such as schools, the military and the U.S. State Department—tend to attract couples who want to work for the same institution.
In It Together
Sarah and Jay Bozzi are teachers who've been working at Mercersburg Academy, a college preparatory school in Pennsylvania, for the past four years.
Sarah, who teaches math at the academy, and Jay, who teaches history, first met while both were employed at Cheshire Academy in Connecticut. When they found jobs at different institutions, the long commutes made balancing work and life difficult. The two "spent a lot of time squeezing in time together," Sarah said. Since marrying in 2011, the pair have only applied to schools where there are open positions for both of them—which led them to teach at a school in Jordan and now at Mercersburg Academy.
Sarah believes her loyalty to Mercersburg Academy is stronger than it might otherwise be because both she and Jay work there. "Our commitment as a couple makes me more likely to work through [workplace] issues," Sarah said.
Danielle Nordyke, director of human resources at Mercersburg Academy, said the couples who work at the school tend to be exceptionally loyal to the institution. Out of 175 faculty and staff employed at the academy, 88 are in a relationship with a co-worker. Nordyke said that during her 12 years at the academy, more single faculty and staff have left their jobs than employees who have a significant other working there.
Often, at the academy and at other workplaces, a couple—whether dating or married—end up working for the organization after one individual is hired and the "trailing" partner also finds work at the institution. In those situations, Nordyke said, it's the HR department that often helps the trailing partner find a job. Loyalty is enhanced, she said, when these couples see that the institution is committed to valuing the couple's relationship and to being family-friendly.
There are sometimes also financial benefits for employers that employ couples, she said. For instance, the school—which provides faculty with subsidized housing—saves money when it can house two workers together.
Jean Baur of Speaker/Author/Career Coach, a Stonington, Conn.-based consultancy that helps companies curtail employee burnout, pointed to another reason supporting romantic relationships is good for business: higher office morale, which she said leads to higher productivity.
'Good relationships create positive energy and a healthy, happy work environment, which in turns creates more-productive employees.'
Potential Pitfalls
There are challenges, of course. In the case of Sarah and Jay Bozzi, for example, "work comes home with us" more profoundly than it might for couples working at different companies, according to Sarah. The workplace's politics and stresses can seem compounded because both partners are often experiencing the same thing, she said.
Also problematic is when one partner becomes the direct supervisor of the other, which can create jealousy or suspicion among co-workers, not to mention tension should the partners disagree at work, Baur and Nordyke said. The better option, they said, is to have the couple work in different departments where there's no supervisory relationship.
"You don't want a relationship that makes other people feel excluded," Baur said. "Couples have to play by the same rules" as other employees.
In a 2013 survey by the Society for Human Resource Management (SHRM), almost every respondent whose company had a workplace-romance policy (99 percent) said love matches between supervisors and subordinates weren't allowed. That was up from 80 percent in 2005 and 64 percent in SHRM's 2001 Workplace Romance survey.
Almost half of these policies (45 percent) forbade romances between employees of significantly different rank, a significant jump from 16 percent in 2005.
Typically, these prohibitions are designed to protect the company from sexual harassment lawsuits if the relationship ends and the subordinate claims the supervisor or higher-ranking colleague is making unwanted advances.
Supervisor-subordinate romances are also problematic because they can spark complaints of favoritism. In fact, 40 percent of survey respondents said employees complained about favoritism between co-workers in a romantic relationship. Such perceptions can damage office morale, the survey authors wrote.
Yet plenty of companies forbade intimate relationships even when there weren't supervisory concerns. About one-third of organizations prohibited romances between employees who reported to the same supervisor or between an employee and a client or customer, both up from 13 percent in 2005. Almost one in 10 (11 percent) also didn't allow romances between their employees and those of competitor organizations, up from 4 percent in 2005.
And more than one in 10 (12 percent) wouldn't even allow workers in different departments to pair up.
Respondents said they worried that office romances would lead to public displays of affection; inappropriate sharing of confidential company information between romantic partners; inappropriate gossiping among co-workers; less productivity from the couple and their colleagues; and damage to the organization's image because the pairing may be seen as unprofessional.
Particularly difficult, Baur noted, is when a couple breaks up. "That's messy," she said, "but life is messy, and we're grown-ups."
Mercersburg Academy's HR department is revising its policies so that no employee reports directly to a spouse: "We want to have at least one level removed," Nordyke said. "We need to have those delineations, especially if there are performance-related issues."
未经允许不得转载:商务英语学习网站-BEC备考网 » BEC中级阅读:招聘情侣可提高效率及忠诚度